Fall Hiking

Take in Stowe's legendary foliage and natural beauty this fall with one of the areas many scenic hikes. It's no surprise hiking is one of the most popular fall activities in the area with stunning views of the Vermont landscape. Stowe has a variety of easy, moderate and expert trail options for all ages and abilities. The trail system is well maintained with clear paths and trail blazes. View our foliage finder for fall resources. Below are popular hikes in the Stowe area to experience the fall foliage views.
Discover Hikes in the Stowe Area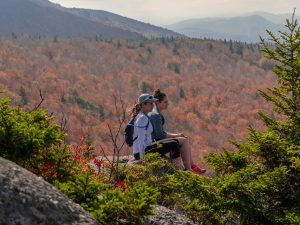 Popular Hikes
Discover Stowe's hikes by browsing different hikes in the area. Find all you need to know including information about the hike, the trailhead location, how long it takes and the elevation.
Explore Hiking In The Region
Learn about the best of Route 100 in Vermont with more hiking in the Waterbury and Mad River Valley regions.
Related Blog Posts
Related Businesses