Kid-Friendly Summer Fun in Stowe
August 2, 2019
by MEGAN LILJEDAHL
Six years ago, our family was looking for a new hometown that would allow us to live where we play. Winter activities are what initially drew us to Stowe where we decided to move in pursuit of our Lil' Vermont Adventure. But over the years we've found that summer is one of the most gorgeous times of the year to be in Vermont—when the green leaves of summer transform the landscape into the lush Green Mountain State that gives Vermont its name–"Ver" meaning "green, and "mont" meaning "mountain."
As a local mom exploring Stowe with my kids these past few years, I have come to know many family activities and places. One of Vermont's best kept secrets is how spectacular summer is here, so I hope you enjoy these insider tips and visit Stowe this summer with your family!
Things to Do for Family Fun

One of our favorite summer activities is riding our bikes on the Stowe Rec Path. This fantastic five mile-long paved trail starts behind the big white church in the historic Stowe Village and ends at a picturesque red covered bridge. The flat route winds along a babbling stream, over bridges and through a lightly wooded landscape, and also passes by shops and restaurants along the way (there are places to park your bike at two of our favorite restaurants – Tres Amigo and Idletyme). Be sure to stop by the Stowe Farmers' Market in the field next to the Red Barn Shops on Sundays!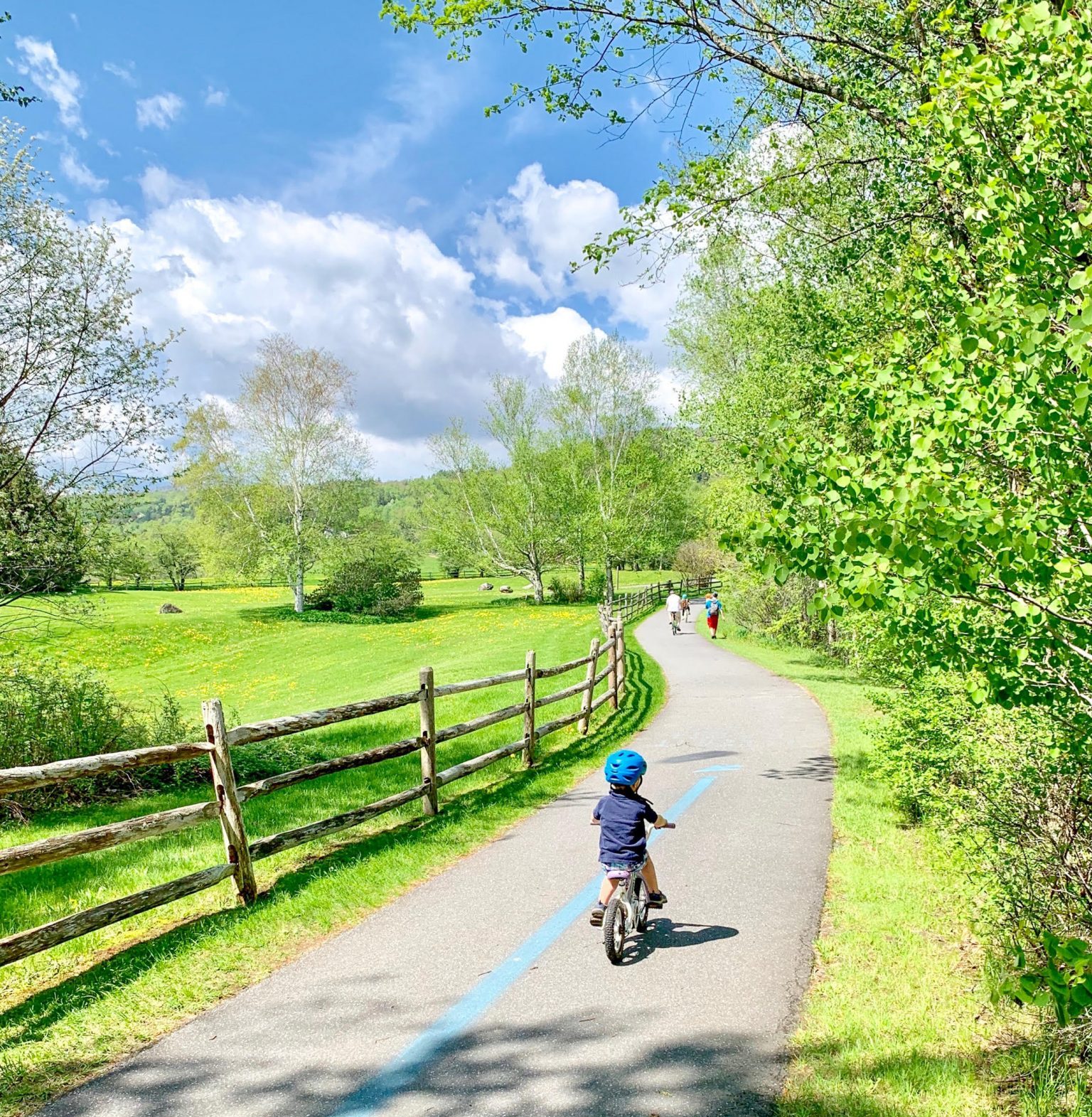 Tucked into the woods behind Stowe Mountain Resort is a lesser-known kid's play structure called the Enchanted Forest Playground, a permanently protected area around the base of Spruce Peak that is pure magic. A kid-sized ropes course challenges children of all ages, and a separate area for younger kids has a tyke-sized climbing wall and slide. Follow the trail from the playground towards the golf course to enjoy a very gentle hike around the wildlife-rich wetlands. For a more thrilling experience, the resort's TreeTop Adventure ropes course will challenge even the fittest person with six different skill levels. A short zip line followed by a climb to a higher elevation separates each level.

Family-Friendly Dining
McCarthy's Restaurant as the most amazing breakfast in town. We love taking the boys here for a special treat. I often go for a veggie omelet along with some bites of the boy's pancakes with real maple syrup. And the cinnamon buns are to die for! Idletyme Brewing Co. has created an amazing outdoor oasis right off the Rec Path. Their space features a patio area for family-friendly dining and a unique outdoor bar integrating trees that provide shade to patrons. Vegetable gardens surround an area with corn hole to pass the time and give kids a space to play. And their menu has something for everyone. If you're looking for a night away from the kids? Cork Wine Bar & Market offers an outstanding menu of Charcuterie boards and tapas to share or large plates if you are looking for something more substantial (also a favorite for date nights or ladies nights). Ask your server for the perfect wine pairing and prepared to be blown away!

Other Bucket List Items for Your Family Summer Vacation in Stowe
And if you can fit these things to do into your itinerary:
Are you ready yet to plan your summer vacation to Stowe?! There are plenty of family-friendly lodging establishments where you can recover after an adventurous summer day.
About the Author:
As a working mother of two lil' boys, Megan Liljedahl is experienced in the work/life juggle and packing as much fun as possible into every weekend. After a decade in Boston she moved back to Vermont where she grew up. Now she leads a portfolio of coffee partners at Keurig Dr. Pepper and spends her spare time sharing her adventures in the town of Stowe, Vermont where she lives. If you want to follow more of her fun Vermont adventures please give her Instagram account a follow @megliljedahl or stop on over to her Lil' Vermont Adventures Blog to say hello!
Photos courtesy of Megan Liljedahl and McCarthy's Restaurant.