Swimming

Stowe's swimming holes are a refreshing way to get out and explore the area on a summer day. There are several places to pull over along the Stowe Recreation Path for a swim in the West Branch River. If you're looking for the picturesque Vermont waterfall, try Brewster Ridge Gorge or Jeff Falls through Smugglers' Notch or the West Branch River at Stowe Land Trust Mill Trail Property. Just short drive outside of the center of Stowe are the Waterbury Reservoir with access to rentals, Lake Elmore and Bootlegger's Basin in Smugglers' Notch, which is open to public swimming in the evening. Several of the area's lodging properties also offer outdoor and indoor pools. Shops offer swimwear, equipment and accessories.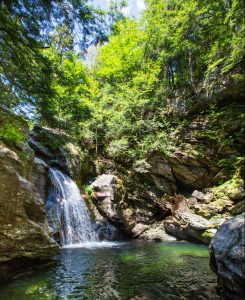 Stowe Swimming Holes Guide
Looking to cool off on a hot summer day? Take a dip, relax and enjoy the natural scenery surrounding the Stowe area. From reservoirs and rivers, to waterfalls and lakes, there is no shortage of options for swimming in Stowe. Download our Swimming Holes Guide for details and directions to swimming spots located throughout the Stowe area.