5 Ways to Seize the Season
October 11, 2018
by DAVE MERRIAM, STOWE MOUNTAIN RESORT
Vibrant foliage may be in full effect, but winter will be here before we know it! While Stowe is a four-season destination, there's no place like Stowe in winter. Early season skiing and riding are just a few reasons to visit Stowe, but don't just take our word for it: Stowe was ranked among "The World's Best Ski Towns" by National Geographic and was also named one of the "World's 10 Best Ski Towns for Foodies" by Fodor's Travel. If you're serious about getting your ski on, read below about 5 ways to Seize the Season.

1) Get Inspired
'Tis the season for ski and ride films, and with opening day at Stowe Mountain Resort approaching fast, the countdown is on! There's nothing like a ski and ride film to get you "Stoweked" for the ski season! Be on the lookout for fall retail sales for new gear for the upcoming season. Be sure to follow #stowesnowfriday on Instagram for the latest updates from Stowe.

2) Pick Your Pass
Stowe Mountain Resort offers unparalleled snowmaking and grooming so you can enjoy the best conditions around–especially in the early season with the FourRunner Quad providing access to top-to-bottom skiing and riding on Vermont's highest peak. Stowe is also one of the first ski resorts to open in Vermont. Purchase your Season Pass early at the lowest price. The Epic Pass pays for itself in just under five days, and you'll belong to an elite pass holders club with unlimited, unrestricted skiing at 65 of the best resorts worldwide. Throw in the exclusive deals you receive around the resort, and an early-season Epic Pass purchase is a no-brainer. Be sure to book lift tickets online at least seven days in advance for the best price and convenience of getting to the lift faster. Every minute counts!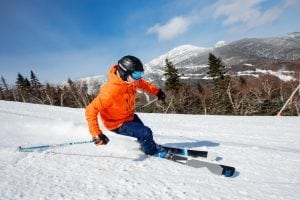 3) Get in Ski Shape
Some get in shape to ski, and others ski to get in shape. Either way, Stowe's uninterrupted vertical proves to be a great way to kick off your season right. Prepare for your first day on the hill with light strength training in your legs. Lunges and squats are great exercises that target your quads and hamstrings. A little cardio can also build endurance and help you make the most of your ski days. Stretching and yoga are great ways to balance all the physical activity. Relax and unwind at the spa after a long day on the slopes!

4) Gear Check (Safety First!)
Get that stamp of approval on all your ski gear before your first day. Not only will you be ready for another amazing season ahead, but you can also prevent injuries with safe gear. (Insider tip: purchase your Season Pass early to lock in the best season-long value and also take advantage of discounted rentals, tuning prices and dining at the resort).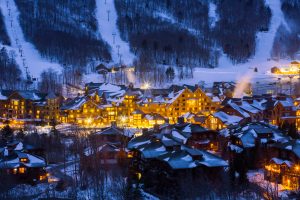 5) Book Early and Save
Cooler weather and leaves changing to their autumn colors are usually great indicators to be on the lookout for early-season lodging deals in Stowe. With lodging savings up to 50% off, it's an opportunity you won't want to miss. Stay at any of Stowe's comfortable lodging locations–from fully equipped condos to luxury slope-side resorts—while enjoying the best on-mountain experiences. Don't wait to reach your peak. Whether you're learning the sport with one of our incredible instructors, or are mastering the mountain with a Private Mountain Guide, upgrade your skills and start the season strong. Explore other activities at the resort, like ice skating or relaxing by an outdoor fireplace, while absorbing the natural beauty of Mt. Mansfield.
Stowe is the place to ski in the early season. Join us for our Opening Day Celebration. Start your winter right: Seize the Season, and make this your best winter yet!
Images courtesy of: Stowe Mountain Resort, The Lodge at Spruce Peak, Mark Vandenberg Photography and Jesse Schloff Photography.