Make Your Own Adventure in Stowe During 7 Miles of Sales
June 26, 2019
by JOSH WOLFGANG, PINNACLE SKI & SPORTS
This time of year is one of my favorites. So many outdoor activities, annual summer events, great food and beverages and countless memories made. The Fourth of July week is especially festive with parades, fireworks, hot air balloons and summer sales. During the 4th of July holiday week, dozens of locally-owned retail shops show appreciation for both visitors and locals by offering Independence Day sales during 7 Miles of Sales.
This year, 7 Miles of Sales kicks off on July 4 – the same day as An Old Fashioned Fourth of July – and lasts through the 7th. You'll find everything from clothing and jewelry, to artwork and sports gear at tent, sidewalk, in-store and online sales along the Mountain Road and beyond. 27 shops are participating this year! A fun way to take advantage of the summer sales is by making an adventure out of the day. In prior years, my friends and I mixed in a mountain bike ride while exploring the local shops. Here's my itinerary from that day. I encourage you to discover your own summer adventures, shops and dining spots during your day(s) in Stowe!

Start at Pinnacle Ski & Sports.
To start our day off, we all meet in the Pinnacle parking lot and get ready for our bike ride. One of my friends was visiting from out of town and needed to rent a mountain bike for our adventure. Knowing we planned to do a little shopping along the way, we picked up a backpack in the store to gather our goods along the ride.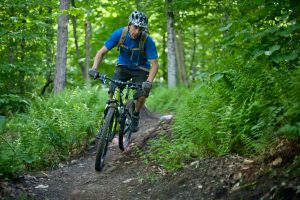 Bike Kimmers Trail to Haul Road.
From Pinnacle we head up the Mountain Road to Kimmer's trailhead, located on an access road close to the Matterhorn. Winding back and forth up a single-track trail, we make our way up to the Trapp Family Lodge trail network. An awesome place to XC ski in the winter, the trails also serve as great mountain biking trails in the summer. After a final climb up to the Trapp cabin, we're ready for our descent.
Brews with views at von Trapp Brewing & Bierhall.
Excited for our first stop, we rolled up to the von Trapp Brewing Bierhall Restaurant. A truly beautiful and grandiose brewery located in the beautiful hillside of Stowe, this is often one of my favorite places to have a beer in Stowe. We grabbed a table outside and enjoyed conversation with a view of Mt. Mansfield, Vermont's tallest peak, as we sipped on some Austrian-style pilsners.

Bikes and burritos at Ranch Camp.
Leaving the brewery, we continue our tour and head down into town. With the mountain biking climbs behind us, it's an easy cruise to our next stop. Ranch Camp is always a fun place to "talk shop" about our biking adventures. A full-service bike shop, a fast-casual eatery and tap room – what more can you ask for? We ate our burrito as the mechanic fixed a flat tire on my friend's bike.
Sample the local flavors at Stowe Cider.
Very happy and full, we head up the Mountain Road to our next stop. Luckily for us, it was a quick ride to the Stowe Cider tasting room. With an awesome tasting room located right in their production facility, it is always cool to see how the cider is made as we enjoy our refreshing beverages. Stowe Cider is also located next to a cool outdoor sculpture park, which is always neat to explore. Knowing that we would want some more cider later, we buy 4-packs to-go and head up the Rec Path back to Pinnacle.

Pick up the finest meats, cheeses and fish at The Butchery.
Tired and happy, we drop off our bikes and Pinnacle and head out for our last planned stop for the day. The Butchery has some of the highest quality fish and meats offered anywhere. They are also a huge local favorite for their lunch sandwiches as well. We pick up some New York strips for the grill in the evening.
There are many ways to experience the best Stowe has to offer while taking advantage of the summer sales. From walking around downtown, to incorporating your shopping into a bike ride adventure, the sale is just another great event to join this summer in Stowe!
About the Author
Josh Wolfgang is an owner of Pinnacle Ski & Sports, Inner Bootworks, and SkiEssentials.com. When he is not working, you can find Josh either skiing, biking, or hiking in the greater Stowe area.
Images courtesy of: Stowe Mountain Resort, Jesse Schloff Photography, Josh Wolfgang, Trapp Family Lodge and The Butchery.