The Best Hiking in Vermont Along Route 100

August 11, 2020
by GO STOWE
With breathtaking views of rolling hills and the lush Green Mountains, it's no wonder people from around the world seek to experience hiking in Vermont. The hikes along the northern part of Vermont Route 100 have it all, along with world-class attractions, craft beverages and Vermont food specialties like maple and cheese conveniently nearby. Discover scenic vistas, waterfalls and forest walks across 77 hiking trails in the greater Stowe region that are perfect for summer and fall adventures. Get outdoors and breathe in the fresh air along the Route 100 corridor, named a "Best New England Road Trip" by Best Life. Check out some spectacular hikes on the way in Stowe, the Mad River Valley and Waterbury, Vermont.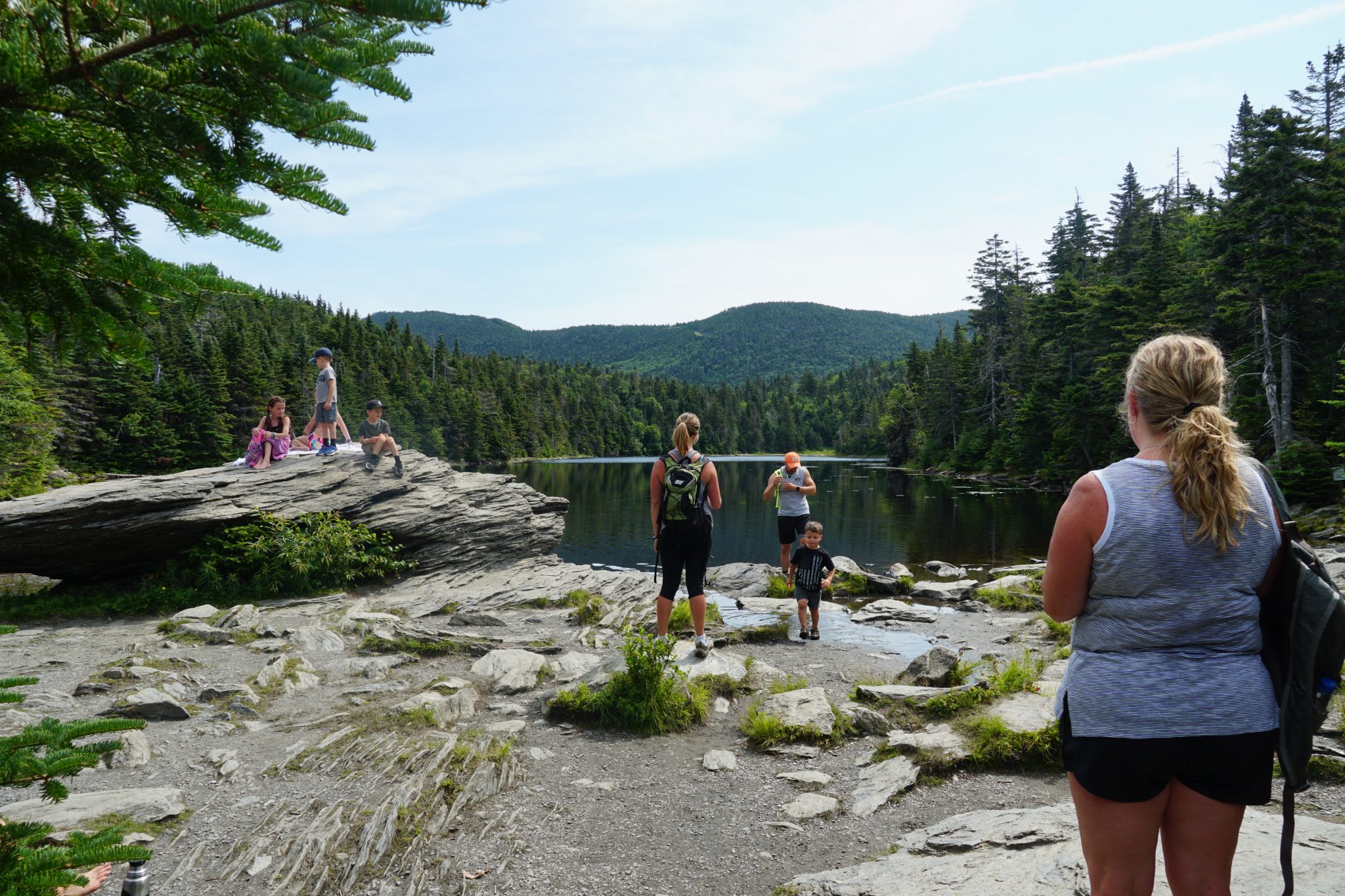 Stowe 
With Stowe's famous Green Mountain views, it is no secret that hiking is one of the most popular summertime activities. With a well-maintained trail system, stunning views and a variety of hikes for all skill-levels, a hike in Stowe is the way to go. 
Sterling Pond: This gorgeous, moderate hike delivers you to the incredibly blue water of Vermont's highest elevation trout pond. At 2.3 miles round trip, this is an excellent half-day hike to do with kids. Another intermediate option just outside of Stowe village is the Stowe Pinnacle, which offers great views of Mt. Mansfield and Camel's Hump that are easily accessible after a short walk to a rock summit. 
Stowe Pinnacle: The Stowe Pinnacle trail is wooded with a short, steady climb to a rock summit with views of Mt. Mansfield, Camel's Hump, the Worcester Range and the Sterling Range. The hike is about three miles round-trip from the parking area on Upper Hollow Road, and a little shorter from the Pinnacle Meadows trailhead. The views at Stowe Pinnacle are phenomenal both in the summer and in the fall during foliage season. 
Mt. Mansfield: One of the most challenging mountains to climb in Stowe and all of Vermont, Mt. Mansfield is the state's highest peak. Though there are several ways to summit, Vermont's historic Long Trail (LT) is one of the most popular. Built in 1910 by the Green Mountain Club, the LT is the United States' oldest footpath and runs 273 miles between the Massachusetts and Canadian borders. Starting at the trailhead on VT Route 108, pass Taft Lodge, the oldest shelter on the LT, on your way to the Chin. Continue over the Chin and hang a left onto the Profanity Trail, which will loop back around for the rocky descent. It's a long, rugged trip, so get an early start and bring plenty of food and water for the full 4.9-mile loop.
Mad River Valley
With scenic walks and rambles and full-day climbs, the Mad River Valley is home to a range of hikes for beginners and experts alike. As you explore the area trails, the valley's love of the outdoors and commitment to stewardship of land and recreational opportunities for current and future generations will be evident.
Mill Brook Path: For a more leisurely hike, the Mill Brook Path offers a journey through a hemlock forest and deer yard. This 3.9-mile hike includes moderately steep hills and wooden footbridges with a classic Vermont backdrop. The Mill Brook Path also connects to other local trails such as the Chase Brook Town Forest trails and the Catamount Trail for additional adventure.
Burnt Rock Mountain: Burnt Rock Mountain is a popular hiker's destination in the Mad River Valley as it is known to have incredible views at the summit. Be ready to cross some streams and conquer a rock scramble during the 4.9-mile in-and-out hike.
Mt. Abraham: Mt. Abraham from Lincoln Gap is a more challenging hike; however, at more than 4,000 feet of elevation the views at the top are worth it. There is a 360-degree view from the summit that spans the Adirondacks, Lake Champlain and the White Mountains. This is a 5.7-mile round-trip hike that can take approximately four hours to complete.

Waterbury
Located right off Interstate 89, Waterbury is a hilly town tucked between the Mad River Valley and Stowe. From historic walks in the woods to climbs with 360-degree views, Waterbury is a great stop along your Route 100 hiking adventure. 
Stevenson Brook Trail at Little River State Park: The 4.8-mile Stevenson Brook Trail goes through the Little River State Park and connects to several other trails. Once the site of a thriving settlement, you'll spot the evidence of hillside homesteads, sugarhouses, barns, sawmills and a cemetery, in the foundations, clearings and stone left behind. This is an easy to moderate hike for a half-day excursion.
Mount Hunger via Waterbury Trail: Approach central Vermont's Mount Hunger from the west on the 4.4-mile Waterbury Trail. Cool off in the waterfall before you leave the woodland and get ready for an exhilarating rock scramble near the peak. At the top, you are rewarded with 360-degree views of Mount Mansfield, Waterbury Reservoir and Groton State Forest.
Camel's Hump via Monroe Trail: Known for its distinct silhouette that some say resembles a couching lion, Vermont's third highest peak offers breathtaking views of the Green Mountains and New York's Adirondacks. Camel's Hump is one of only three Vermont mountains with alpine tundra similar to growth from 1,000 miles to the north. The Monroe Trail winds up the eastern flank of the mountain. Look for the cemetery in which namesake Will Monroe is buried, and a plaque dedicated to the crew of a B-24 Liberator bomber which crashed there in mountain fog in 1944. This trail is more difficult at 6.8 miles long.
Learn about the best of Route 100 in Vermont with more hiking in Stowe, Waterbury and the Mad River Valley. Stop by the Green Mountain Club for expert hiking advice and learn about supporting their work to maintain trails and more. For hiking in Stowe, view the Go Stowe Hiking Guide.
Images courtesy of: Go Stowe, Mark Vandenberg/@stowebeautiful and Discover Waterbury. Video courtesy of Mark Vandenberg/@stowebeautiful.