Celebrate Fall At One Of These 9 Stowe Events

August 16, 2018
by STOWE AREA ASSOCIATION
As the evening air cools and hazy summer days shorten, we're reminded that fall is right around the corner –and with it, a number of ways to celebrate the changing season. Summer winds down with a three-day jazz festival, classic British Invasion and other signature events will take place as the leaves begin to change color. Celebrate fall in Stowe with a pumpkin chuckin' festival and an Oktoberfest celebration. Don't put away your trail shoes yet – a number of races will close out the season.
So, get ready for an event filled autumn in Stowe. Below are a few of our favorite leaf-peeping season events.
Stowe Jazz Festival
When: September 7 – 9, 2018
Where: Various Stowe locations
The hills are alive in Stowe during this three-day multi-venue festival. From September 7 – 9, the Stowe Jazz Festival takes place on various stages around Stowe. The festival is free of charge, and will feature Jazz artists of all genres. Watch live music and relax at venues such as Doc Ponds, Cork Wine Bar & Market of Stowe and dance the night away at Tres Amigos.

British Invasion
When: September 14 – 16, 2018
Where: Various Stowe locations
Celebrate all things British at the 28th annual British Invasion, a three-day event with a primary focus on the classic British motorcar. A favorite in Stowe and among British motorcar lovers, this event features a car corral, Concours d'Elegance, driving tours and the British Invasion Block Party on Stowe's Main Street.

Trapp Family Lodge Annual Oktoberfest
When: September 22, 2018
Where: von Trapp Brewery
You're invited to the 9th annual Oktoberfest held at the von Trapp Brewery & Bierhall. Join the Trapp Family Lodge for a day of fun, food and Austrian music. Featuring an Inseldudler Band, strolling accordionist, lawn games and Austrian fare cooked on an outdoor grill. Purchase a von Trapp Lager and leave with a commemorative mug.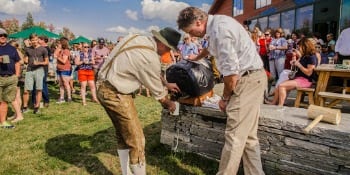 Vermont Pumpkin Chuckin' Festival
When: September 30, 2018
Where: Stoweflake Mountain Resort & Spa
This classic event is back for its 10th year and offers activities for everyone. Watch competitors go for distance as they launch pumpkins from their homemade trebuchets. This event will feature a chili cook-off and will benefit the Clarina Howard Nichols Center.

Stowe Foliage Arts Festival
When: October 5 – 7, 2018
Where: 3420 Mountain Road, Stowe
Celebrate Vermont's most colorful season at the Stowe Foliage Arts Festival. Enjoy fine art and craftwork from many fine artists and artisans. Come for the contemporary and traditional craft and artwork and stay for the live music, craft beverages and good food. Enjoy foliage while sampling all the area has to offer this fall.

Trapp Mountain Marathon and Half-Marathon
When: October 13, 2018
Where: Trapp Family Lodge
Looking to race against a backdrop full of vibrant fall colors? The Trapp Mountain Marathon and Half-Marathon is a challenging trail run in the heart of the Green Mountains. October is a great time to break out those running sneakers and explore Vermont's hills, roads and trails.

Dine Stowe
When: October 21 – 27, 2018
Where: Various Stowe locations
Discover your new favorite dining spot during Dine Stowe, a week-long celebration featuring restaurant specials for $20.18. Pick a different restaurant every night and explore the town named one of the "World's 10 Best Ski Towns for Foodies" by Fodors Travel.

Heady Topper 4-Miler
When: October 21, 2018
Where: The Alchemist
Sneak in another race before the snowflakes fly. This late season 4-miler will start and end at The Alchemist Brewery. Join in on the fun at a family-friendly, post-race party featuring eight food trucks, an Alchemist beer when you cross the finish line, live music and lawn games. Run for the views and stay for the brews.
Vermont 10-Miler
When: November 4, 2018
Where: Mayo Farm Events Field
Race this circular course through ten miles of Stowe's most beautiful roads. This race is back for its second year and will challenge runners with a total elevation gain of 700 feet. Beginning and ending at the Mayo Farm Events Field, this race will offer some stunning vistas and a well-deserved post-race party.