Transportation in Stowe
Getting Around Stowe, Vermont
A variety of transportation options are available in Stowe, including busses, taxi services and airport shuttles to Burlington International Airport (BTV), a full-service international airport located in South Burlington, Vermont, and the Morrisville-Stowe State Airport, located just seven miles north of Stowe village.
Stowe is also walk-able and bike-able via the Stowe Recreation Path that meanders 5.3 miles up the Mountain Road from the historic Stowe village.
Taxis and Car Services
Whether you are looking for a ride from the airport into town or transportation to get you around town, Go Stowe can connect you with local taxi and shuttle services. Call ahead to one of our reliable transportation businesses to secure your ride. Taxi and car services include Hometown Tours & Rides, Patriot Transport, Subzero Transportation, and Ethan Allen Coachworks.
Mountain Road Shuttle (winter bus service)
From late-November through early April, Stowe offers a free shuttle bus service through Green Mountain Transit (GMT) that provides access to world-class skiing and snowboarding, dining, shopping and other activities and attractions. The complimentary Mountain Road Shuttle offers convenient transportation in Stowe, especially during inclement weather and peak periods, and is especially useful for those driving to town without winter tires, which are strongly encouraged. Plan to take extra time to get to your destinations on a holiday weekend or snow event, especially when the two overlap.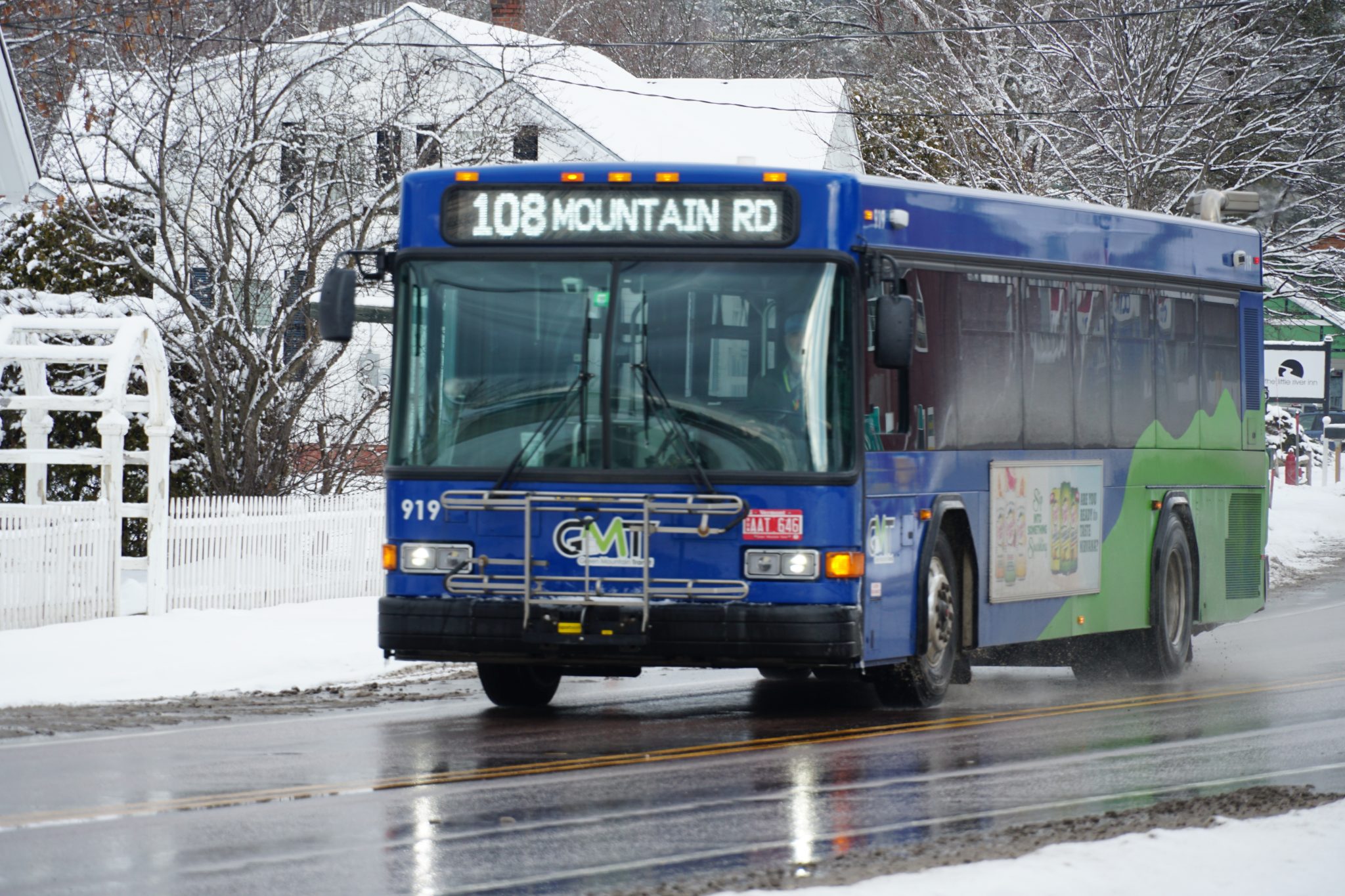 Schedule and Bus Information
The Mountain Road Shuttle loops throughout town every 30 minutes off-peak and every 15 minutes during peak hours, from Commodores Inn on South Main Street to the downtown village and up Mountain Road (Route 108) to Stowe Mountain Resort. Plan your trek and track bus status in real-time. All GMT buses are equipped with wheelchair lifts/ramps and two or more spaces to accommodate wheelchairs up to the weight capacity of the lift/ramp. The bus stops by the Stowe Town Hall offers access to other GMT routes.
Important Links