Stroll Through Gardens of Stowe this Summer
June 6, 2019
by GO STOWE
What better way to spend a peaceful summer day than take a leisurely stroll through floral gardens among the picturesque mountains of Vermont? This is the very essence of the annual Gardens of Stowe event, happening this year on June 30th. Whether you love flowers or gardening, know someone who does, enjoy taking pretty pictures or are looking to explore Stowe on a more intimate level, this event is for you.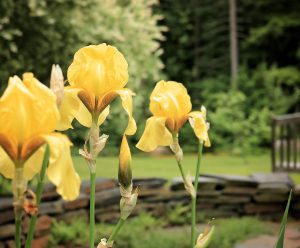 The afternoon starts at Stoweflake Mountain Resort & Spa where you'll pick up a garden tour map and descriptions of each of the gardens. From there, begin your self-guided excursion to the colorful gardens of private and commercial properties in the Stowe area with family and friends. Discover these hidden gardens at your own pace while taking in the Green Mountain views.  Learn about the gardens and talk to other gardeners all along the way.

After an afternoon full of flowers, head back to the Stoweflake Mountain Resort & Spa and relax while sipping tea at the tea party. Share stories of your journey while enjoying snacks and entertainment with fellow garden lovers. Evergreen Erb, a local harpist and birder, joins Gardens of Stowe for the afternoon. Evergreen will play harp music during the tour and host a talk about birds during the reception. Be sure to bring your camera to capture these picturesque gardens!

It is recommended to purchase tickets in advance. Interested in visiting Stowe for this or other signature summer events? Explore lodging specials that are available and summer outdoor activities to enjoy during your stay.
Photos courtesy of: Teresa Merelman and Stowe Vibrancy.