Making Music At The 2nd Annual Stowe Jazz Festival
August 30, 2018
by JASMINE BIGELOW, STOWE JAZZ FESTIVAL
Jazz musicians are largely influenced by the air and energy around them, which informs the music they produce in the moment. Live jazz reaches out and grabs you. Before you know it, you're wrapped up in the music – and the moment. This was my experience when the Chico Pinheiro Quartet, a top ensemble from Brazil, took the stage at the first-ever Stowe Jazz Festival last year.
Building on the success of the inaugural event, the Stowe Jazz Festival is back for a second year. From September 7 – 9, dozens of world-class jazz artists and groups from near and far will come to Stowe for three days of inviting music covering all sub-genres of jazz–from bebop and swing, to Brazilian, progressive and gypsy jazz.

A few of last year's favorites will join the 2018 lineup, including the Chico Pinheiro Quartet and New York City-based artists Ed Cherry Trio (an alumnus of Dizzy Gillespie), Nate Reit with Collage and Dan Pugach Nonet. New to the main stage this year are the Donny McCaslin Quartet, the band that recorded with David Bowie on his last album; Choro Das 3, a Brazilian band made up of three sisters and their father; Progger, a young, funky and electric Jazz group; Michael-Louis Smith with Brooklyn Circle and Allison Miller Quartet.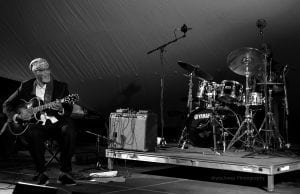 And who could ask for a more inspiring setting for a jazz festival than Stowe? The 2018 Stowe Jazz Festival will take place at several venues around town. The festival's main stage will be at the Alchemist Brewery. Events throughout Stowe include a late-night jazz jam at Doc Ponds, jazz brunch at Cork Wine Bar & Market of Stowe, jazz dinner at Junior's at Stowe and Latin jazz at Piecasso Pizzeria & Lounge.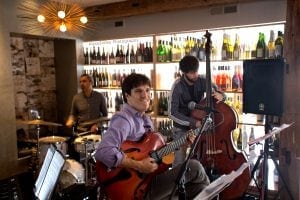 Stowe's vibrant arts community has grown to be an important part of the Stowe experience, and the hills truly come alive in Stowe during this three-day multi-venue festival that supports jazz music of all genres. The festival is free of charge, so relax, watch live music and dance the night away!
For more information and a full list of venues and artists, visit stowejazzfestival.com.
About the Author:
Jasmine Bigelow is a marketing consultant and Stowe local who only just discovered the amazing allure of Jazz at last year's Stowe Jazz Festival.  She is forever grateful.
Images courtesy of Alyce Jones/Stowe Jazz Festival