A Local's Guide to Summer Road Biking in Stowe

June 7, 2018
by CARRIE NOURJIAN, COMMODORES INN
Road biking is my favorite go-to activity this time of year. Stowe is a mecca for a variety of cycling activities, and there are many beautiful rides suited for everyone to enjoy – from paved roads to an endless network of quiet gravel roads, and even an incredible system of wooded trails for mountain biking. Here are a few of my favorite road rides:
Stowe-Morrisville Loop
Just like my collection of skis, I have a collection of bikes suited for different types of cycling. When I pull my road bike off the rack, one of my favorite rides in the area is a nice 25-mile loop heading north from Stowe to Morrisville via Randolph Road and returning on Stagecoach Road. Talk about views! Mount Mansfield, Vermont's tallest peak, is equally stunning in the daytime as it on a sunset ride.

Stowe Recreation Path
For a leisurely or family-friendly ride, explore the five mile-long Stowe Recreation Path, which starts behind the iconic white church (Stowe Community Church) in the historic Stowe village, and meanders along the West Branch of the Little River. On a hot day, you can stop and swim in several swimming holes along the river. On the way, back stop for a bite to eat at a restaurant along the Rec Path.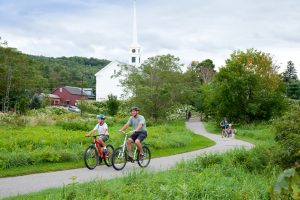 Smugglers' Notch-Hyde Park Loop
For those looking for a real challenge, there's a lovely but long 60-mile ride up over Smugglers' Notch to Jeffersonville onward to Waterville. From Waterville, take a right onto Hog Back Road to Johnson. From Johnson, take 100C to North Hyde Park and pick up Ferry Street to North Hyde Park Road to Centerville Road back to Hyde Park. From there, pick up Stagecoach road and back to Stowe.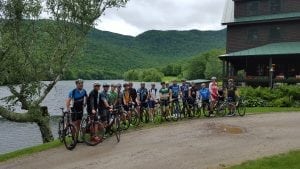 A few other scenic rides include north to Craftsbury, Greensboro and back via Vermont Route 14 and Wild Branch, which becomes North Wolcott Road, and Vermont Route 12 to Montpelier and back.
Stowe is perfect for a New England summer getaway with so many outdoor activities to choose from, as well as options for those who are looking to rent a bike, want to learn the basics of mountain biking or wish to explore popular trails in town with a local guide.
About the author:
Carrie Nourjian, co-owner of Commodores Inn, has been an avid cyclist since her youth. She participates regularly in long-distance cycling events to raise money for various causes including cancer, spinal cord injuries and the Vermont Foodbank. Carrie has participated in The Race to the Top of Vermont every year since its inception in 2008 and the former Darn Tough Ride where she earned the title 'toughest of Them All.' When not biking in the summer, Carrie enjoys skiing in the winter.  
Photos courtesy of: Carrie Nourjian, Commodores Inn