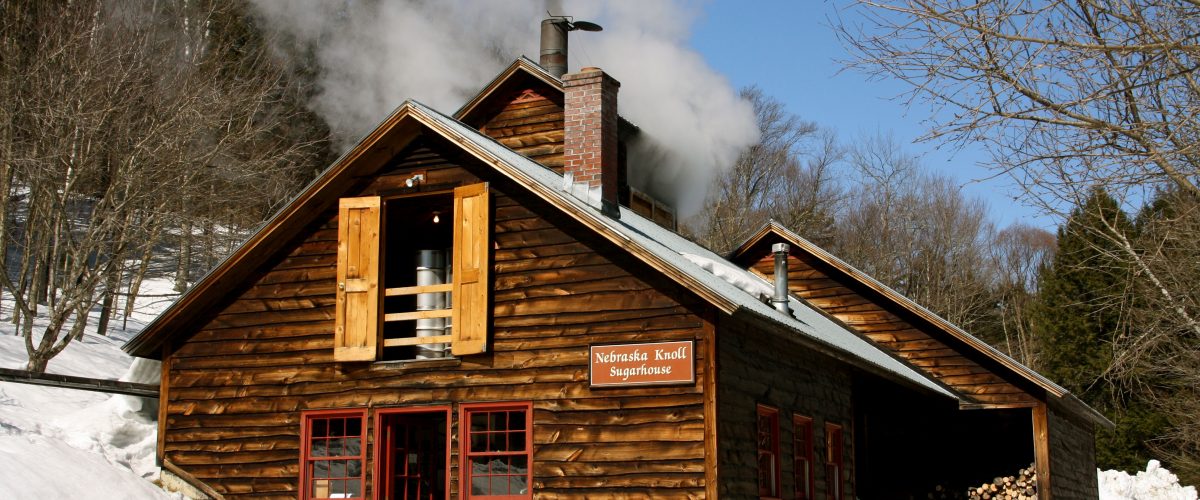 Vermont Maple Open House Weekend 2019

Maple Open House Weekend celebrates the first crop of the season as Vermont's sugar makers will open the doors of their sugarhouses, inviting visitors in to experience and enjoy this remarkable time of year when pure Vermont maple syrup is made. Whether it's the sight of steam rising from the sugarhouse, the inviting aroma of boiling sap, or the sweetly divine flavor of syrup as enjoyed in traditional sugar-on-snow, visitors are treated to an experience for the senses!

Check back in soon for more information.

Sugar houses near Stowe:

Nebraska Knoll Sugar Farm
Each spring since 1980, the Coty family has tapped sugar maple trees in the foothills of Mt. Mansfield. The mountainside sugarbush slopes up from Nebraska Valley in Stowe, six miles from the village and part of the scenic view from Trapp Meadow. Visitors are welcome year-round (all-wheel drive recommended in winter). Their retail room features maple products for sale at sugarhouse prices and a display of photos and artifacts.

Stowe Maple Products
Owners Robin & Stephen Pierson boil some of the finest syrup in Vermont. Located at 2616 Waterbury Road (Route 100, just across from the Fly Rod Shop), this family-run operation produces syrup in the spring months, but is open year-round for retail. You'll enjoy 100% pure Vermont maple syrup at farm prices, and they'll even ship your syrup for you! Hours do vary seasonally, so it's best to call ahead to make sure Stowe Maple Products is open, or to check the next boil time: (802) 253-2508.

Trapp Family Lodge
Join the Trapp Family Lodge at their sugarhouse. Every March, when the days become longer and warmer, they start the process of maple sugaring. They still "sugar" the old-fashioned way, using buckets to collect sap and a sled and a team of draft horses to gather sap. Then, the sap is boiled down to syrup in a very large, wood-fired evaporator. The sap and the sugaring process are completely organic; no chemicals, pesticides, or herbicides.

The Maple Sugar Tour is a casual, 1-mile hike around the property where you learn about the process and enjoy a tasty maple treat. Meet at the Outdoor Center 15 minutes prior to your tour time.