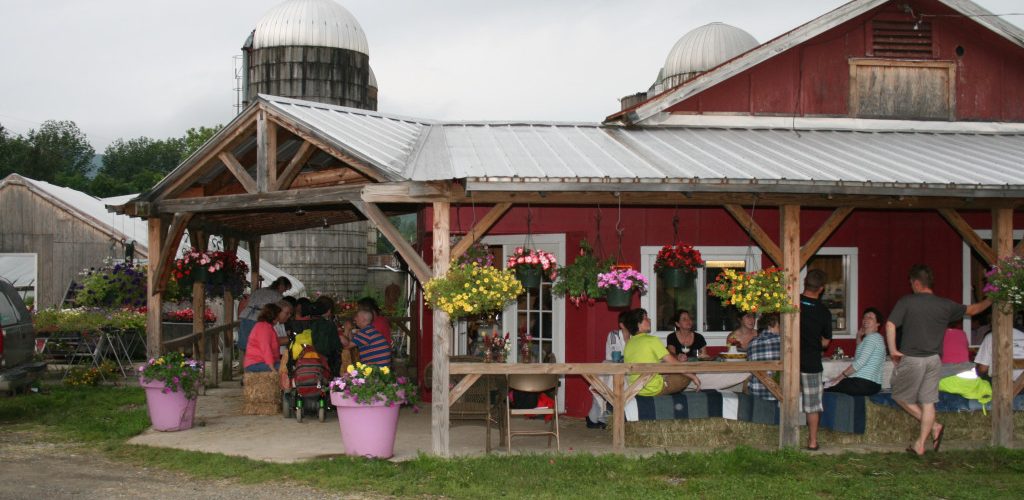 On Farm Dining at Valley Dream Farm
Farm-to-table dinners and tour. An educational and delicious dining experience at Valley Dream Farm, Tuesdays June – October. Reservations required. Please call ahead with dietary restrictions.
Your evening begins with an educational one hour tour of this beautiful certified organic farm, nestled into the picturesque Pleasant Valley outlined by gently rolling organic fields and breathtaking backdrop views of the majestic Mt. Mansfield. After the tour, guests mingle with the farmers while enjoying appetizers including Farmer Annie's famous Hot Pepper Jelly. Guests are then seated in an outdoor covered setting (during autumn or colder weather we move into our seasonally decorated and heated greenhouse) with fresh flowers picked on the tour. The Valley Dream Farm dinning experience is prepared by a local guest chef.
Our family style dinners begin with an abundant salad and fresh bread with organic butter. The meal continues with several delicious entrees and an array of the our seasonal certified organic vegetables and herbs picked and prepared that day. Our dinners are complimented with other delicious local foods and Vermont products. Every dinner is concluded with desert, Farmer Joe's homemade ice cream made fresh that day. Pair your dessert with local, fresh ground coffee for a grand finale to this delightful farm experience. Every dinner is a unique delicious surprise. Families are welcomed; we offer mild choices for your picky eaters. The Farm Store is open during the whole evening for additional purchases including souvenir's, Annie's Hot Pepper Jelly, other farm made canned items, and as always an abundant produce selection.
Fresh Organic lemonade, coffee , teas and ice water are included in your meal. Register here.
*There is a minimum of 15 guests for each dinner to take place. If there is a cancellations, we will fully refund any money paid. Please note that during 2017, only one event was cancelled.