B3 Fest – Bikes, Brews & Beats
The B3 Fest – Bikes, Brews & Beats is an annual celebration of Vermont mountain biking, craft beverages and music. This three-day, town-wide festival offers family-friendly events, food and drink specials, live music, group rides and more. 
Summer (un)officially starts on Friday, June 29, 2018 in downtown Stowe, Vermont. Join us on Park Street in Stowe for the 2018 B3 Fest Block Party, in the Stowe Village featuring live music and samples and tastings from some of the area's finest producers of craft brews and artisan foods. Immediately following the block party is the Critical Mass Ride, a family-friendly bike ride through Stowe to the B3 Fest Kick-Off Party. On Saturday, June 30 and Sunday, July 1, area bike shops will host mountain bike group rides throughout town, which start from and end at participating B3 Fest venues. All group rides are free to the public. View full schedule of events. 
The event is organized by Stowe Trails Partnership (STP), a Stowe-based non-profit organization that partners with the community to build and maintain a world-class trail network. STP manages more than 30 miles of mountain bike trails in Stowe.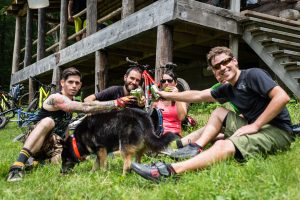 Registration Information
Visit the B3 Fest – Bikes, Brews & Beats website for additional event information.
Lodging Special Information
Exclusive lodging discounts are available for attendees of the B3 Fest – Bikes, Brews & Beats.